Grand Opening Event
Information Seminar
Chaucer Estates Assisted Living
LIVE THE GOOD LIFE AT CHAUCER ESTATES
Chaucer Estates of Wichita, Kansas, is a premier residential community offering Independent Living, Assisted Living, and Memory Care. Renovated with a major interior remodeling in 2013, our community allows residents to experience graduated levels of care as a smooth transition when needs change, and our caring staff are here to ensure that every day is a fulfilling one. We would love for you to visit us with your family and loved ones and see Chaucer Estates for yourself!
LIVE AT YOUR OWN PACE
There's plenty to do at Chaucer Estates, where each resident's wants and needs are carefully tended to in an atmosphere dedicated to the closeness of family and friends. Residents enjoy relaxing in the fireside room, which includes a library, flat-screen HDTV, game tables, and plenty of puzzles and games. Residents love taking a dip in their large indoor swimming pool, which is kept at 90 degrees all year long. Delicious meals are had in the elegant dining room, where our chef prepares fresh, home-cooked meals in a restaurant-like setting. Whether you're feeling active or just want to relax, there's a place for you at Chaucer Estates.
INDEPENDENCE, JUST FOR YOU
Whatever you're looking for, one of our apartment options is sure to suit your needs perfectly. We offer residents customized care plans, so residents can enjoy timesaving amenities and social activities as much as they like. Each member of our community enjoys the opportunity to live life their own way, receiving assistance when required and freedom when desired. We offer medication management, bathing, laundry services, housekeeping, healthy snacks, activities, and transportation to shopping and doctor appointments.  The dining, shopping, and walking trail at Bradley Fair are always popular destinations!
MEMORY CARE
Our state-of-the-art, remodeled Wichita Memory Care center offers residents coping with Alzheimer's and Dementia an opportunity to reside, dine, and enjoy activities in a supportive atmosphere unlike any other. Staffed by experienced and passionate caregivers, Chaucer Estates's Memory Care community promotes dignity and independence in a loving and caring environment.
Care That's Always There
With separate Wichita Assisted Living and Memory Care communities, Chaucer Estates is also ideal for aging in place without disrupting residents' lives with a move. Our Memory Care and Assisted Living residents and residents' families receive valuable peace of mind knowing that licensed nursing staff is available 24 hours a day and an emergency call response and security system is in place for residents with dementia. Prior to moving in we speak with you and your physician to find just the right level of assistance that will allow you to enjoy your independence to the fullest. Together, we will compose an Individual Service Plan (ISP) to guide us in assisting you. Nurses and resident assistants are always available to assist with medication administration and the activities of daily life. Our mission is to provide a lifestyle that fosters independence, actively engages the mind, invigorates the body and nurtures the spirit while offering you and your loved ones the peace of mind you deserve.
Worry-Free Lifestyle With Just a Simple Lease
While some communities insist on new residents putting down huge, non-refundable payments up-front, we like to do things a little differently. We care about not only the physical and emotional well-being of our residents, but their financial health as well. That's why we offer our residents all the perks of country club living without the expensive buy-in—just a simple lease.
We have 22 Independent Living cottages, all of which have two bedrooms. Further detail regarding floor plans, amenities, and more can be found along the sidebar to the left.
* This Community is Licensed as an Adult Care Home and Assisted Living Facility
Please select here to read our HIPAA Notice of Privacy Practices
Dining at Chaucer Estates
Live Well, Dine Well
Allow our professionally trained service staff to present you with delicious dishes made from locally sourced ingredients for breakfast, lunch and dinner. At Senior Lifestyle, dining is an integral part of the resident experience, and we do everything we can to delight you with a personalized dining experience.
Dining Directors and Executive Chefs meet with residents to discuss and incorporate enhancements to the menu, special requests, favorite recipes or foods, and unless otherwise specified by state regulations we offer therapeutic diets such as reduced concentrated sweets, mechanical soft and purée. Residents can select healthy, locally sourced options based on the nutritional information, or they can simply opt to choose their favorites. And we always encourage residents and relatives to make special arrangements when expecting a family visit!
Services at Chaucer Estates
Our Service Culture Makes the Difference
It's the service culture at every Senior Living community that sets us apart. Our experienced, highly trained staff find everyday fulfillment as they help residents live life to the fullest. Below you will find the services and amenities available that are specific to this location, organized by lifestyle option.
A La Carte
Physical, Occupational and Speech Therapy
Room Service
Routine Physician Visits
Routine Podiatry Visits
General Amenities
Beauty and Barber Shop
Emergency Call System
Fitness Equipment
Business Center/Internet Lounge (Computers, Copy Machine, Fax, etc.)
Main Dining Room
Planned Social Activities
Cards Room
Walking Path
Outdoor Patio Area
Spacious Community Rooms with TV's and DVD's
Guest Parking
Courtyard
Complimentary Wi-Fi
Smoke-Free Environment
Pet Friendly
Individually Controlled Heat and Air
Walk-In Closets
Billiards Room
Library
Theater
Indoor Pool
Covered Parking
Assisted Living
Restaurant-Style Service for Breakfast, Lunch and Dinner
Weekly Housekeeping
Daily Housekeeping
On-Site Maintenance Personnel
Personal Laundry
Availability of Professional Service Staff 24-Hours per Day
Availability of Trained Clinical Staff 24-Hours per Day
Availability of Licensed Nursing Staff 24-Hours per Day
Personalized Care Plans
24 Hour Emergency Call Response
Daily Up and About Check
Nutritious Snacks Available Throughout the Day
Utilities – Include phone, Internet and Basic cable
Transportation
Independent Living
Restaurant-Style Service for Lunch and Dinner
Weekly Housekeeping
On-Site Maintenance Personnel
Transportation
In-Unit Washer and Dryer
Availability of Professional Service Staff 24-Hours a Day
Covered parking
Utilities
Memory Care
Restaurant-Style Service for Breakfast, Lunch and Dinner
Daily Housekeeping
Weekly Housekeeping
On-Site Maintenance Personnel
Availability of Professional Service Staff 24-Hours a Day
Availability of Trained Clinical Staff 24-Hours a Day
Availability of Licensed Nursing Staff 24-Hours a Day
Personal Laundry
Utilities
Basic Cable
Personalized Care Plans
24-Hour Emergency Call Response
Daily Up and About check
Nutritious Snacks Available Throughout the Day
Secured, Dexterous Courtyards with Walking Paths and Professionally Manicured Landscapes and Gardens
Transportation
Programs at Chaucer Estates
STOP DREAMING—START DOING!
Senior Living communities thrive because many of our residents are curious, interesting individuals who love to collaborate with their neighbors and our staff. They consistently make brilliant suggestions for interesting new programs and clubs, which we are more than happy to make a reality. We empower every resident to continue to grow, connect, move, and create at their own pace.
Executive Bio for Chaucer Estates
Jill Cook
Jill Cook has been the Executive Director at Chaucer Estates since August 2018.  Jill received her Masters of Aging Studies in May of 2018.  She had been an Certified Occupational Therapy Assistant for 7 years prior to that, specializing in geriatrics.  Jill has 2 children, 4 dogs and 2 cats.  Jill enjoys fishing and camping.
Awards for Chaucer Estates
And the Award Goes to…
Since Senior Lifestyle was founded in 1985, our skilled and compassionate team has been helping Senior Living residents learn, grow, and connect in ways they never expected. The best part is that we learn from our residents even more than they learn from us, which might explain why our programs and services continue to evolve and improve every year. As a result of our high level of service, we've received official recognition over the years. While we are proud of these awards, our passion for what we do continues to drive us to improve every single day.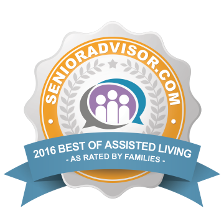 Awards for Chaucer Estates
heart of caring
Testimonials for Chaucer Estates
We can talk all day about how great our communities are, but we think you should hear from people who have experienced first-hand how we offer an unmatched quality of life at every senior living community.
Our favorite one was Chaucer. It was nice. We got to visit the staff and tour the rooms, and this was the one that they wanted to go into. The rooms were nicer than other facilities. They were a little larger and had their own kitchenette in them for assisted living people. I liked their food and the dining facility; it felt more like a big restaurant. They actually had an indoor swimming pool where they could do water aerobics, so it wasn't open for them to just swim in. They could do some classes there; it was really nice. They also would allow my parents to keep their little dogs with them.
Special Offer
Save $1,000 on Moving Expenses!*
Senior Lifestyle is here to lessen the load. That's why we're offering $1,000 off your moving expenses for move-ins prior to 12/31. We take pride in making everyday a happy day. This even includes moving day.
Request more info to receive a coupon for $1,000 off your Moving Expenses. Print out the $1,000 off coupon and bring it with you when you visit the community!
*Participating communities only. Limited-time offer applicable to new residents only and must be presented at the time of deposit.
request info