Grand Opening Event
Information Seminar
The Sterling Aventura Assisted Living
 The Finest Memory Care & Assisted Living in Aventura, Florida
Welcome to resort-style living! Our eight-story building is in an unbeatable location, near many attractions and resources and just five miles from the beach. Offering Aventura Assisted Living and Memory Care services, our dedicated staff here at The Sterling Aventura would like to welcome you and your family to give us a call or pay us a visit. We would be more than happy to show you what our wonderful community has to offer!
Rediscover the finer things in life
When our team takes care of life's necessities, you have more time to enjoy life's pleasures. Every floor of our community features a common social area where residents often meet before starting their day. There is plenty to do and explore, whether in our arts and crafts room, library, computer room, card rooms, the bar, or the surround-sound theater. We offer open dining in our elegant dining room, so feel free to drop in and order a fresh, locally sourced meal or snack when you're feeling hungry. Looking to get out and explore? We have a valet and full-time driver on staff to take you wherever you want or need to go. Resident favorites include Aventura Art and Cultural Center, the Adrienne Arsht Center, South Beach, and the casino!
Care that's always there
We provide dog walking and grooming, dry cleaning, a beauty salon and barbershop, housekeeping services, and transportation. We also have a state-of-the-art rehabilitation gym and physical, occupational, and speech therapy available.
Prior to moving in we speak with you and your physician to find just the right level of assistance that will allow you to enjoy your independence to the fullest. Together, we will compose an Individual Service Plan (ISP) to guide us in assisting you. Our mission is to provide a lifestyle that fosters independence, actively engages the mind, invigorates the body and nurtures the spirit while offering you and your loved ones the peace of mind you deserve.
Worry-free lifestyle with just a simple lease
We care about not only the physical and emotional well being of our residents, but their financial health as well. That's why we offer our residents all the perks of country club living without the expensive buy-in—just a simple lease. Our Assisted Living and Memory Care community in Aventura offers spacious apartments with different floor plan options and a number of amenities described below.
Explore nearby cities like Miami Beach.
Please select here to read our HIPAA Notice of Privacy Practices
Dining at The Sterling Aventura
Live Well, Dine Well
Allow our professionally trained service staff to present you with delicious dishes made from locally sourced ingredients for breakfast, lunch and dinner. At Senior Lifestyle, dining is an integral part of the resident experience, and we do everything we can to delight you with a personalized dining experience.
Dining Directors and Executive Chefs meet with residents to discuss and incorporate enhancements to the menu, special requests, favorite recipes or foods, and unless otherwise specified by state regulations we offer therapeutic diets such as reduced concentrated sweets, mechanical soft and purée. Residents can select healthy, locally sourced options based on the nutritional information, or they can simply opt to choose their favorites. And we always encourage residents and relatives to make special arrangements when expecting a family visit!
Services at The Sterling Aventura
Our Service Culture Makes the Difference
It's the service culture at every Senior Living community that sets us apart. Our experienced, highly trained staff find everyday fulfillment as they help residents live life to the fullest. Below you will find the services and amenities available that are specific to this location, organized by lifestyle option.
A La Carte
Physical, Occupational and Speech Therapy
Room Service
Routine Physician Visits
Routine Podiatry Visits
Assisted Living
Restaurant-style service for Breakfast, Lunch and Dinner
Cuisine prepared with seasonal, locally sourced ingredients
Weekly Housekeeping
Daily Housekeeping
Bi-Weekly Houskeeping
On-Site Maintenance Personnel
Personal Laundry
Availability of Professional Service Staff 24-hours per day
Availability of Trained Clinical Staff 24-hours per day
Utilities – excluding telephone and internet
Personalized Care Plans
24-Hour Emergency Call Response
Daily Up and About Check
Nutritious Snacks available throughout the day
Transportation
Memory Care
Restaurant-style service for Breakfast, Lunch and Dinner
Cuisine prepared with seasonal, locally sourced ingredients
Weekly Housekeeping
Monthly Housekeeping
On-Site Maintenance Personnel
Personal Laundry
Utilities
Basic Cable
Personalized Care Plans
24-Hour Emergency Call Response
Daily Up and About Check
Nutritious Snacks available throughout the day
Transportation
General Amenities
Beauty and Barber Shop
Emergency Call System
Fitness Equipment
Business Center (Computers, Copy Machine, Fax, Etc.)
Art Center
Main Dining Room
Planned Social Activites
Cards Room
Outdoor Garden Area
Spacious Community Rooms with TV's and DVD's
Library
Guest Parking
Courtyard
Theater
Complimentary Wi-Fi
Smoke-Free Environment
Pet Friendly
Individually Controlled Heat and Air
Rehabilitation Gym
Points of Interest
Senior Lifestyle communities are located near many cultural, culinary and spiritual points of interest. We encourage residents to explore their local communities however they like. We arrange for scheduled trips to local markets, theaters and more, but we also love it when residents create their own trips! Points of interest near this Senior Lifestyle community include:
AventuraTurnbury Jewush
Temple Beth Torrah
Habbad- Aventura
Aventura Medical center
Mt. Sinai Aventura
Mt Siani
Aventura Loop
Miami dade Public Transit
FLL and Miami Airport
Micael Ann Russell
Leeza's Place
Aventura mall
Promenade Shops
Bal harbour mall
Aventura Cultural center
Broward performing Arts
Arscht center
Discovery and Science
Bass
MOMA
Barry University
FIU
University of Miami
Programs at The Sterling Aventura
Stop Dreaming—Start Doing!
Senior Living communities thrive because many of our residents are curious, interesting individuals who love to collaborate with their neighbors and our staff. They consistently make brilliant suggestions for interesting new programs and clubs, which we are more than happy to make a reality. We empower every resident to continue to grow, connect, move, and create at their own pace.
Executive Bio for The Sterling Aventura
Meet Our Executive Director
Mary Buchanan
Mary has over 20 years of professional experience in the senior livi
ng industry. Her favorite part of her role as Executive Director at The Sterling Aventura has been interacting with residents and hearing their amazing stories and histories.
"We have tremendous longevity here," she says. "Residents rave about our close-knit community, and our staff is top notch."
Mary is a licensed Clinical Social Worker whose past work involved counseling at-risk children and their families. She holds a Master's degree in Social Work from Adelphi University. For fun, Mary enjoys yoga, going to the beach, and spending time with family and friends.
Mary is excited for you to experience The Sterling Aventura for yourself!
Awards for The Sterling Aventura
And the Award Goes to…
Since Senior Lifestyle was founded in 1985, our skilled and compassionate team has been helping Senior Living residents learn, grow, and connect in ways they never expected. The best part is that we learn from our residents even more than they learn from us, which might explain why our programs and services continue to evolve and improve every year. As a result of our high level of service, we've received official recognition over the years. While we are proud of these awards, our passion for what we do continues to drive us to improve every single day.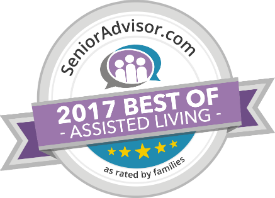 The Sterling Aventura is the recipient of the Caring.com Caring Super Star Award in 2016. This award is given to communities for excellence in service in Assisted Living or Memory care communities. Our community has earned a 5-star consumer rating on Caring.com for three consecutive years — check out some of our testimonials to see for yourself!
Awards for The Sterling Aventura
heart of caring
Testimonials for The Sterling Aventura
We can talk all day about how great our communities are, but we think you should hear from people who have experienced first-hand how we offer an unmatched quality of life at every senior living community.
The staff at Sterling Aventura is great. When my mother in law needs help they are there as soon as possible. The staff is nice they are always checking on her to make sure that she is comfortable. The community is nice and up-kept. We are comfortable knowing that she is in a safe place.
"I have several friends who are living there and they love it. They particularly like one staff member, named Barry. They tell me he has become like a son to them." – N/A
"There are many options for choosing an Assisted Living Facility in South Florida but when only the best will do….choose The Sterling Aventura. The entire dedicated competent staff, each and every day, reveal a genuine warm interest in the residents. The Directors, Barry and Mary, both display compassion for the residents and are instrumental in running such a fabulous facility. My mother lives at The Sterling and our family always knows that when you speak to Barry or Mary that will fulfill your expectations above and beyond your request. I have witnessed first hand their professionalism in interacting with the residents and staff. Their dedication to excellence in The Sterling is exemplary. No wonder they have the BEST Adult Living Facility in South Florida !!!!" – Mrs. Simpson
"Leaving the most important person in your life in an Adult Living Facility is an emotional experience for everyone. When you have 2 conscientious, dedicated, and most competent Directors that exemplify patience and kindness, the transition living at The Sterling of Aventura turns into a magnificent new experience. nThe staff at The Sterling go out of their way to help everyone and are instrumental in implementing a safe environment for the residents and always make sure each resident is introduced to others to begin friendships. My hat goes off to all of them!!" – Alana
"I am an 89 year old single male, who has been a resident of the Sterling for two and a half years. My points of view are strictly my own and I will try to do my best to describe what I think about the place. I made the decision to come to the Sterling after some very serious losses. I lost my wife, my vision, and had other difficulties within a short period of time. Two month after it all happen, I called my friend Jack who had been living at the Sterling for a few years. During that time Jack and I had met frequently and he always made favorable comments about the Sterling. I asked Jack to make an appointment for me to move in. I met with Barry Ger, the marketing director, a very bright guy, who offered an answer to each of my problems. We had several, very good meetings, and Barry delivered in all his promises. I will say I am a member of a minority of the population, who could be called the group of "the willing". I welcome the opportunity to move in to the Sterling, as opposed to the majority of the population could be called the "unwilling group". I would say that the major portion of the success of the Sterling goes to its management group. I can say that Mary Buchanan, the Executive Director, Barry Ger, The Director of Marketing and Cathy Finkelstein the Activities Director, are a group of hard working, "hands on" executives, who do an excellent job of consistently trying to improve the lifestyle and comfort of the residents. Each is totally involved in the operation of the Sterling. I view the Sterling as a form of communal living, rather than the harsh vision of assisted living facilities. I think the strongest talking points are the activities. Its 7 day, round the clock of activities has something to offer to everyone. The highlight of every day is the 3:30 to 4:30 happy hour, which includes some beverages and entertainment. The Happy Hour brings almost the entire population together in a festive setting giving the residents something to look forward to. In the dining room there is open seating. The result is that you get to meet most of the resident. Over this period of time, I found out that a few of the residents had migrated to the Sterling from similar facilities and the common denominator was that the other facilities didn't offer as many activities as the Sterling does. There was very little for them to do during the day. The management team does its up most to help the residents to become involved as much as possible. Speaking personally, I was thrilled to find, when I came to Sterling, that there is twice a week Texas Holdem poker game, but when I sat to play I found that I couldn't read the cards. Cathy, on her own, when on the internet, and found "low Vision Playing cards". A week later she came back to me and said I want to test you. She pulled one of the new decks and started dealing, and sure enough I was able to join the game. This is just one example of the many things that Cathy has done for me and other residents to help out and make us happy. She goes above and beyond for the residents and this is an attitude that is widely held by the management team, to make our lives better. I am very grateful to share my feelings about the Sterling and would like to leave you with a happy though: I tried to find some negatives and I had great difficulty coming up with any." – Norman
"My grandfather has been at Sterling for a few years. The staff and care he receives is outstanding. I've personally had some meals with him there and the food is great. I have a lot of peace of mind knowing he is so well cared for." – joshblock
"The staff at The Sterling can't be beat. And it starts from the top- Mary rocks!!! We have my mom-in-law in a similar facility in the Washington, DC area. What a difference several states make! Talk about southern hospitality. The Sterling culture is friendly and its apparent that they're interesting in building deep relationships with residents & their families. There is no cookie-cutter approach to care here, they make it clear that every resident is unique with their own set of needs. Bravo!" – Mitch A
"My mother fought the idea of assisted living for many years and I had been convinced that she would go downhill in new, unfamiliar surroundings. But the staff was so welcoming and accomodating and she soon began to feel like this was her home. Surprisingly, her physical and mental health has improved! She enjoys the activities, has a new best friend and I attribute her improved memory with the brain health class she took here. The staff and management are extremely dedicated and always approachable." – Barbara
"I liked their outdoor, they have trees and seats for hanging out on a good weathered afternoon. The staff greeted us with a smile and quickly led us on a tour. They have amenities and activities posted for the residents. The place looks neat as well."
"The staff seems very friendly and it looks like they all really like their jobs. Meals are really delicious. Rooms are all very clean and generally, seniors have a nice life there."
"We were delighted to visit the Sterling Aventura while in the region. We were looking at assisted living facilities in the area for my friend's mother. Our tour of the outside grounds was lovely; there were flowers and shrubs everywhere, with nice seating areas. The staff was very friendly and all seemed to really like their jobs. The main living areas were fresh, clean and sunny with a contemporary, yet homey décor. The outside area is ample, with plenty of seating areas to enjoy. The variety of activities offered was impressive. The staff goes out of its way to suggest stimulating things to do – from reading and playing games to outings in the community. The lunch meal we saw looked really delicious. The menus looked like they offered an extensive array of nutritious foods, including snacks. The private rooms we viewed were all very clean, well-kept and inviting – kind of resembling what you might find at a hotel but more personal. The exercise room was large and had a variety of options to choose from, including classes and equipment. We liked that they provide emergency call pendants and have emergency pull cords in the bathrooms. The library had a large book selection and there was a convenient salon. We really didn't notice anything missing – it looked like everything seniors need to live well was right there."
Special Offer
Save $1,000 on Moving Expenses!*
Senior Lifestyle is here to lessen the load. That's why we're offering $1,000 off your moving expenses for move-ins prior to 12/31. We take pride in making everyday a happy day. This even includes moving day.
Request more info to receive a coupon for $1,000 off your Moving Expenses. Print out the $1,000 off coupon and bring it with you when you visit the community!
*Participating communities only. Limited-time offer applicable to new residents only and must be presented at the time of deposit.
request info