Grand Opening Event
Information Seminar
The Woodmark at Sun City Independent Living
With you through change
Woodmark of Sun City, located in Sun City, Arizona, is a residential community that offers graduated levels of care. We provide Sun City Independent Living, Assisted Living, Memory Assistance and Memory Care programs. If a resident needs to transition to a new program, we make the move as smooth as possible. Residents often don't have to move from their apartment, or can move into an apartment with a similar floor plan. Our experienced staff is happy to guide you as your needs change.
A place with plenty of space
Whether you want private or shared, studio or two bedrooms, one of our units is sure to fit your needs. All of our units offer walk-in closets, walk-in showers, and generous shelf space. But don't worry about the cleaning—we provide weekly housekeeping. Our spacious facility also boasts common areas, a private dining room, and a serene atrium. Recently completed renovations have a fresh and modern look.
Discover what awaits you
You might not find the time to explore all of what our facility has to offer when you're out on the town. We provide transportation services to Sun City via bus and town car—just tell us where you want to go! We are close to Arrowhead Mall, AMC Theatres, and many more sites and attractions. If you prefer to stay in, you can mingle at our coffee shop, stop in at our beauty salon, or enjoy our cable television package. There is so much to explore in and out of the Woodmark community!
Care that's always there
We offer Sun City Independent Living and Assisted Living lifestyle options. Our Sun City Assisted Living residents and residents' families receive valuable peace of mind knowing that a certified nurse is on staff 24 hours a day and a security system is in place for residents with mild dementia. All of our residents also enjoy the comfort of weekly housekeeping, physical therapy, health screenings, and the delicious dining options of our Fresh for You program.
Worry-free lifestyle with just a simple lease
While some communities insist on new residents plopping down huge, non-refundable payments up-front, we like to do things a little differently. We care about not only the physical and emotional well being of our residents, but their financial health as well. That's why we offer our residents all the perks of country club living without the expensive buy-in—just a simple lease.
Explore nearby cities like Peoria.
Please select here to read our HIPAA Notice of Privacy Practices
Dining at The Woodmark at Sun City
Live Well, Dine Well
Allow our professionally trained service staff to present you with delicious dishes made from locally sourced ingredients for breakfast, lunch and dinner. At Senior Lifestyle, dining is an integral part of the resident experience, and we do everything we can to delight you with a personalized dining experience.
Dining Directors and Executive Chefs meet with residents to discuss and incorporate enhancements to the menu, special requests, diet restrictions and favorite recipes or foods. Residents can select healthy, locally sourced options based on the nutritional information, or they can simply opt to choose their favorites. And we always encourage residents and relatives to make special arrangements when expecting a family visit!
Services at The Woodmark at Sun City
Our Service Culture Makes the Difference
It's the service culture at every Senior Living community that sets us apart. Our experienced, highly trained staff find everyday fulfillment as they help residents live life to the fullest. Below you will find the services and amenities available that are specific to this location, organized by lifestyle option.
Independent Living
Restaurant-Style Service for Breakfast, Lunch and Dinner
Weekly Housekeeping
On-Site Maintenance Personnel
Utilities – Excluding Telephone and Internet
24-Hour Emergency Call Response
Transportation
A La Carte
Catering- Private Functions
Room Service
Assisted Living
Restaurant-Style Service for Breakfast, Lunch and Dinner
Daily Housekeeping
Weekly Housekeeping
On-Site Maintenance Personnel
Personal Laundry
Utilities – Excluding Telephone and Internet
24-Hour Emergency Call Response
Transportation
Memory Care
Restaurant-Style Service for Breakfast, Lunch and Dinner
Daily Housekeeping
Weekly Housekeeping
On-Site Maintenance Personnel
Personal Laundry
Utilities
Basic Cable
Personalized Care Plans
24-Hour Emergency Call Response
Daily Up and About Check
Nutritious Snacks Available Throughout the Day
Transportation
Secured, Dexterous Courtyards with Walking Paths and Professionally Manicured Landscapes and Gardens
When memories fade, it's the moments that matter most-and our award-winning embrace Senior Lifestyle memory care program exists to create moments that are altogether authentic and enjoyable. embrace isn't just a program dedicated to memory care, but it is a real place and a welcoming neighborhood where experiences and personalities are brought to life.
Residents are cared for in mind, body and soul through a coordinated, comprehensive approach to wellness, and our small-group programming is designed to address the unique needs that arise from memory loss and impairment. By connecting living spaces with leisure and recreation options that dovetail with residents' abilities and interests, we create holistic experiences that spark both imagination and closeness. This ensures that the daily rhythm of life is filled with joy and serenity.
Learn more about our five pillars and signature programs on our embrace page.
General Amenities
Beauty and Barber Shop
Emergency Call System
Fitness Equipment
Main Dining Room
Private Dining Room
Planned Social Activities
Outdoor Patio Area
Spacious Community Rooms with TV's and DVD's
Guest Parking
Smoke-Free Environment
Pet Friendly
Individually Controlled Heat and Air
Walk-In Closets
Library
Balcony/Terrace
Points of Interest
Senior Lifestyle communities are located near many cultural, culinary and spiritual points of interest. We encourage residents to explore their local communities however they like. We arrange for scheduled trips to local markets, theaters and more, but we also love it when residents create their own trips!Points of interest near this Senior Lifestyle community include:
Numerous churches
Boswell
Del Webb
Sun City Recreation Centers
Arrowhead Mall
Braodway Theater
AMC Theatres
Floor plans at The Woodmark at Sun City
All Residence Types
Memory Care
Programs at The Woodmark at Sun City
Stop Dreaming—Start Doing!
Senior Living communities thrive because many of our residents are curious, interesting individuals who love to collaborate with their neighbors and our staff. They consistently make brilliant suggestions for interesting new programs and clubs, which we are more than happy to make a reality. We empower every resident to continue to grow, connect, move, and create at their own pace.
Executive Bio for The Woodmark at Sun City
Meet Our Executive Director
Rob Kondos
Rob Kondos has over 23 years of experience working in the senior living industry. His favorite part about his role as Executive Director of Woodmark of Sun City has been "getting to start each day by interacting with our wonderful residents and staff, hearing their interesting stories and being part of a caring and positive environment."
Rob also credits his team for their immeasurable contributions to the community. "Our community is special because we have a seasoned and experienced management team and staff who receive on-going training and are dedicated to providing a great quality of life for our residents," he says. "Our community is home to our residents because we provide a welcoming atmosphere where each resident is encouraged to enjoy life while being allowed to age with dignity."
Rob has managed a variety of senior services such as Home Health, Hospice, Independent Living, Assisted Living and Memory Care. For fun, Rob enjoys spending time with his family, enjoying music, and the outdoors. He holds a degree in Business Administration.
Awards for The Woodmark at Sun City
AND THE AWARD GOES TO…
Since Senior Lifestyle was founded in 1985, our skilled and compassionate team has been helping Senior Living residents learn, grow, and connect in ways they never expected. The best part is that we learn from our residents even more than they learn from us, which might explain why our programs and services continue to evolve and improve every year. As a result of our high level of service, we've received official recognition over the years. While we are proud of these awards, our passion for what we do continues to drive us to improve every single day.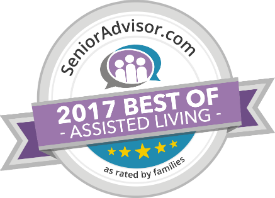 Awards for The Woodmark at Sun City
heart of caring
Testimonials for The Woodmark at Sun City
We can talk all day about how great our communities are, but we think you should hear from people who have experienced first-hand how we offer an unmatched quality of life at every senior living community.
Its a great place. The food is great. The staff is so very helpful. Almost too helpful. Very caring and loving and genuine. thank you!
"This community is clean and well managed, especially in the memory care unit. The staff in Memory Care seem to go above and beyond caring for the residents. It seems residents are well cared for and respected." – Senior Advocate 2013
"The Woodmark is an exceptional assisted living community. The physical plant is beautiful and the staff are committed to the quality of life experience that they offer to their residents." – Community Professional
"We feel like our parents are safe & clean. They are in a very friendly environment that has a compassionate staff. The Woodmark offers fun activities for the residents, both on site and off. They have a great menu full of many choices at every meal. The environment is that of a very nice hotel, not a hospital setting. And our parents can be together in their apartment. We know they are safe 24/7" – Slatons
"After visiting The Woodmark in Sun City I was able to stop looking for a wonderful assisted living community, for my Mother. The marketing director, was so helpful. He answered all my concerns, welcomed me to a guest meal, helped me find a moving company, and the list goes on.nMy Mother tested out for the Monarch floor, which is for mild memory loss. She has been so very happy with her apt and her caregivers, who she refers to as her friends. The nurse and the activity director have been super , also, the program or floor director is so helpful and really loves her residents. I am so glad we found The Woodmark and its wonderful staff." Lynn
"The WoodMark is great. The people are very caring and call my Dad by Name every time..he like that!! It has a very comfortable feel and everyone seems happy." – Linda Shultz
"The Woodmark was great facility. It was up to date and modern. They had studio, one-bedroom and two-bedroom units with handicap accessible bath, full kitchenette and refrigerator. The staff seemed to be competent and happy with their job. The food was top notched. They had gourmet meals and they had choices in the menu. They had chefs that catered to the people. Their dining room was one of the best ones I had ever seen. They had nice tablecloths and folder cloth napkins. They had like a coffee bar where they could get ice cream, popcorn, coffee or tea all day long. They had a lot of activities going on. They had activity room where they play games or do crafts. They had buses that took them to casinos, malls or excursion. They had shops. However, it wasn't a good fit for my mom. They took people who were able to do for themselves and it wouldn't be what my mother needed. With the add-on, it would be $6,500 a month." – Diana24
"The staff is all very friendly & helpful. My sister is in the Monarch & raves about the food & the staff. She really likes it there. We looked at several facilities but the Woodmark always stood out for us. She is in the best place she can be." – Patty
"I really like the Woodmark at Sun City, the facility is very open and bright with plenty of room to move around in. It is very clean and well maintained and I could see that they put a lot of work into the facility to make it perfect for the residents. There is so much for the residents to do on a daily basis, they have a variety of choices including this little green room, which I love, where the residents can come in and take care of plants. It is very peaceful for the residents and they seem to really enjoy being able to take care of the plants. They also have a super cute little coffee shop that the residents love to hang out in and it is a wonderful place for residents to spend time with their friends and families. On one of my visits a group of residents were participating in a jewelry making activity, and they were loving it. They were making bracelets, necklaces, earrings, you name it. I spoke with one of the ladies because I noticed her making this beautiful aqua-colored necklace and I could tell that she was very proud of it. She said that she loves when they do this activity because she has loved jewelry her whole life. She was excited to wear it to bingo. The Woodmark is a wonderful facility with very friendly and patient staff. The only concern that I had was the staircase, though there are elevators and I didn't see any residents on the stairs during my visit, I am sure there are residents who might try to take on the stairs and their are a lot of them, and I worry about their safety. However, other than that, I would recommend this facility to anyone. The staff will treat your loved ones like royalty."
Special Offer
Save $1,000 on Moving Expenses!*
Senior Lifestyle is here to lessen the load. That's why we're offering $1,000 off your moving expenses for move-ins prior to 12/31. We take pride in making everyday a happy day. This even includes moving day.
Request more info to receive a coupon for $1,000 off your Moving Expenses. Print out the $1,000 off coupon and bring it with you when you visit the community!
*Participating communities only. Limited-time offer applicable to new residents only and must be presented at the time of deposit.
request info