Grand Opening Event
Information Seminar
Independent & Assisted Living in Tyler, TX
Seize the Day at The Garden Estates of Tyler
Are you ready to live in a community dedicated to empowering you to live life on your own terms? Then welcome to The Garden Estates of Tyler. You will find our community in the heart of the peaceful, picturesque community of Tyler, Texas, where we offer both Independent Living and Assisted Living lifestyle options suited just for you.
Live the life you've always dreamed
When you first visit Garden Estates of Tyler, you might have to pinch yourself. Our beautiful estate and care services are designed just for you. We take care of the chores so that you can live your life pursuing your passions, or simply enjoying a life of leisure. Whether you choose to play some pool, take a walk in the courtyard, or stay in and enjoy a movie in the theater, the laughter and camaraderie of your new friends are just a step away.
We are at your service
Life at Garden Estates includes our Fresh for You dining program, housekeeping service, daily activities, on-site rehabilitation services, daily wellness checks, and more. We drive groups to local markets, restaurants, and attractions, too. Have a request? We are more than happy to take you wherever you need or want to go—just ask! Conveniently located near two major hospitals, places of worship, shopping, museums, universities, and more, we will gladly chauffeur you wherever you want to go.
Worry-free lifestyle with just a simple lease
While some communities insist on new residents plopping down huge, non-refundable payments up-front, we like to do things a little differently. We care about not only the physical and emotional well being of our residents, but their financial health as well. That's why we offer our Tyler Independent Living residents all the perks of fine living without the expensive buy-in—just a simple lease.
Explore nearby cities like Longview.
Please select here to read our HIPAA Notice of Privacy Practices
Dining at Garden Estates of Tyler
Live Well, Dine Well
Allow our professionally trained service staff to present you with delicious dishes made from locally sourced ingredients for breakfast, lunch and dinner. At Senior Lifestyle, dining is an integral part of the resident experience, and we do everything we can to delight you with a personalized dining experience.
Dining Directors and Executive Chefs meet with residents to discuss and incorporate enhancements to the menu, special requests, favorite recipes or foods, and unless otherwise specified by state regulations we offer therapeutic diets such as reduced concentrated sweets, mechanical soft and purée. Residents can select healthy, locally sourced options based on the nutritional information, or they can simply opt to choose their favorites. And we always encourage residents and relatives to make special arrangements when expecting a family visit!
Services at Garden Estates of Tyler
Our Service Culture Makes the Difference
It's the service culture at every Senior Living community that sets us apart. Our experienced, highly trained staff find everyday fulfillment as they help residents live life to the fullest. Below you will find the services and amenities available that are specific to this Tyler Independent Living location, organized by lifestyle option.
A La Carte
Catering – Private Functions
Room Service
Routine Podiatry Visits
Independent Living
Restaurant-Style Service for Lunch and Dinner
Cuisine Prepared with Seasonal, Locally Sourced Ingredients
Weekly Housekeeping
On-Site Maintenance Personnel
Utilities – Excluding Telephone and Internet
24-Hour Emergency Call Response
Availability of Professional Service Staff 24-Hours per Day
Transportation
Assisted Living
Restaurant-Style Service for Breakfast, Lunch and Dinner
Cuisine Prepared with Seasonal, Locally Sourced Ingredients
Daily Housekeeping
Weekly Housekeeping
On-Site Maintenance Personnel
Personal Laundry
Availability of Trained Clinical Staff 24-Hours per Day
Availability of Professional Service Staff 24-Hours per Day
Availability of Licensed Nursing staff 24-Hours per Day
Utilities – Excluding Telephone and Internet
Personalized Care Plans
24-Hour Emergency Call Response
Daily Up and About Check
Nutritious Snacks Available Throughout the Day
Transportation
General Amenities
Beauty and Barber Shop
Emergency Call System
Fitness Equipment
Art Center
Main Dining Room
Private Dining Room
Planned Social Activities
Cards Room
Walking Path
Outdoor Patio Area
Spacious Community Rooms with TV's and DVD's
Guest Parking
Courtyard
Complimentary Wi-Fi
Smoke-Free Environment
Pet Friendly
Individually Controlled Heat and Air
Billiards Room
Library
Theater
Storage
Free Cable and Covered Parking
Points of Interest
Senior Lifestyle communities are located near many cultural, culinary and spiritual points of interest. We encourage residents to explore their local communities however they like. We arrange for scheduled trips to local markets, theaters and more, but we also love it when residents create their own trips!
Points of interest near this Senior Lifestyle community include:
Green Acres Baptist Church
First Baptist Church South
New Life Community Church
East Texas Medical Center
Trinity Mother Frances Hospital
TASCA Activity Center
Broadway Square Mall
The French Quarter Shopping
Carmike Cinema
R. Don Cowan Fine and Performing Arts Center
Tyler Museum of Art
Historic Aviation Memorial Museum
Tyler Rose Museum
University of Texas at Tyler
The Waterpark @ The Villages
Hollytree Country Club
Eagle's Bluff Country Club
Willow Brook Country Club
Tyler Tennis and Swim Club
Texas Rose Horse Park
Floor plans at Garden Estates of Tyler
Independent Living
Assisted Living
Programs at Garden Estates of Tyler
Stop Dreaming—Start Doing!
Senior Living communities thrive because many of our residents are curious, interesting individuals who love to collaborate with their neighbors and our staff. They consistently make brilliant suggestions for interesting new programs and clubs, which we are more than happy to make a reality. We empower every resident to continue to grow, connect, move, and create at their own pace.
Executive Bio for Garden Estates of Tyler
Meet Our Executive Director
Deidra Halko
Deidra Halko joins Garden Estates of Tyler with six years of experience in senior living with Senior Lifestyle. When asked her favorite aspect of being part of the Garden Estates of Tyler family, Deidra says it's hard to choose, stating, "I LOVE my job! I love interacting with the residents every day. They have so many stories and have led such amazing lives. I learn something new about them every day."
Deidra feels that Garden Estates of Tyler is unique because of the team members who go above and beyond to assist residents. She says, "We strive to hire employees that want to work here because they have a heart for seniors." She says that the team members at Garden Estates of Tyler exemplify East Texas friendliness and the residents quickly form strong bonds with one another because of that open, friendly atmosphere.
Deidra says that animal welfare is a personal passion; when she can, she helps transport rescued dogs to their new homes in Texas and neighboring states. She also loves spending time with family in Oklahoma City and with her daughter in Dallas. Deidra has an Associates Degree in Business from Rose State College in Midwest City, Oklahoma, and has worked as a Business Office Manager at Senior Lifestyle.
Deidra describes her community as the type of environment where residents enjoy grabbing a cup of coffee or a glass of tea and visiting with neighbors, saying "We feel like home!" She'd love for everyone to visit Garden Estates and experience East Texas hospitality!
Awards for Garden Estates of Tyler
And the Award Goes to…
Since Senior Lifestyle was founded in 1985, our skilled and compassionate team has been helping Senior Living residents learn, grow, and connect in ways they never expected. The best part is that we learn from our residents even more than they learn from us, which might explain why our programs and services continue to evolve and improve every year. As a result of our high level of service, we've received official recognition over the years. While we are proud of these awards, our passion for what we do continues to drive us to improve every single day.
Garden Estates of Tyler is the recipient of the Caring.com Caring Star Award in 2015 and SeniorAdvsior.com Best of 2016. This award is given to communities for excellence in service in Assisted Living or Memory care communities.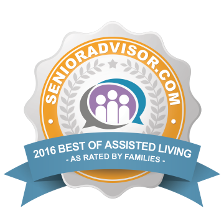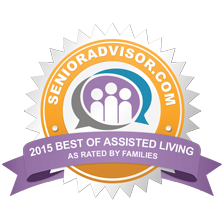 Awards for Garden Estates of Tyler
heart of caring
Testimonials for Garden Estates of Tyler
We can talk all day about how great our communities are, but we think you should hear from people who have experienced first-hand how we offer an unmatched quality of life at every senior living community.
Garden Estates of Tyler was very good. I liked it. I wish I could move in there. It seemed very family oriented. The apartment was large, and they had a library, a place for puzzles, activity room, and activities happening almost all the time. It's just very pretty and nice, and everybody was very friendly. The dining area was very nice. The tables were set very nicely with flowers on the table. It was very pretty. They have a private dining room that was very pretty with a large table and artwork if you want to do something special for your immediate family. It was very nice.
Everything is going very well for my mother here at this community. I'am very pleased with all they have done for us. The staff is amazing, they have been very good to work with. She is trying some activities, they offer many for her to choose from. The food is good, she is satisfied with the meals. I know she is safe and in good hands. They provide great care and I would recommend this community.
"Garden Estates is a large facility that allows a lot of space and recreation area for its patients. The grounds look more like an apartment complex since it comes with a large garden area and walking paths outside. Inside the building offers a large dining area and game rooms in which they offer several different games throughout the week. I love the activities they offer to their residents to keep them active and involved. I also love that the facility bus makes almost daily trips to wherever patients need to go. Clearly, these employees respect their residents and want to make them feel at home, and are doing a great job of it." – Kay28
"Very impressed with Garden Estates;the entire tour was very nice as well as the prices." – apfm_family
"When we visited the community it just seemed so warm and welcoming. The residents appeared to really be happy, which showed me what type of care our loved one would be getting I would very highly recommend this community to anyone." – Satisfied Customer
"My husband and I have lived here for five months and really love it. He has Parkinson and needed more assistance than I could take care of at home and after checking out a couple of homes we chose this one. So far we are really amazed at the caring staff of aides and the loving care they have given him. Food is really good with great menu selections and great service. So thankful to have such a great place to live and call home." – Gertie
"Before my great-grandmother passed away, she resided at Garden Estates of Tyler. At first our family was apprehensive about having to place her in an assisted living facility. However, when we toured Garden Estates and met the caregivers, we were impressed with the level of care they showed for their residents. The rooms are spacious and brightly-lit, and there is a cheerful atmosphere that is often lacking in elder care facilities. A grand piano is located in the dining room, and oftentimes music is played during meals. In my opinion, they go above and beyond in their care of their residents, because they provide not only for their physical needs, but their emotional and social needs as well. There are weekly and monthly activities, as well as fun activities for every holiday. The caregivers seem to genuinely enjoy their work and their residents, and it made for a very warm atmosphere for my great-grandmother. I think it is a great facility." – Katherine Price
Special Offer
Save $1,000 on Moving Expenses!*
Senior Lifestyle is here to lessen the load. That's why we're offering $1,000 off your moving expenses for move-ins prior to 12/31. We take pride in making everyday a happy day. This even includes moving day.
Request more info to receive a coupon for $1,000 off your Moving Expenses. Print out the $1,000 off coupon and bring it with you when you visit the community!
*Participating communities only. Limited-time offer applicable to new residents only and must be presented at the time of deposit.
request info