Grand Opening Event
Information Seminar
Walden Place Enriched Housing
5-star Living at Walden Place
At Walden Place in Cortland, New York, you or your loved one will receive the care and service suited to your personal lifestyle so that you can live your life the way you always intended. Offering Cortland Assisted Living and Memory Care lifestyle options, Walden Place allows you to embark on a gracious life that you may not have thought possible.
Live it up!
The Walden Place community has a little something for everyone. Whether you like to get out and explore your local community, enjoy relaxing in the comfort of your home, or a little bit of both, we have virtually limitless options that will nurture your mind, body, and spirit. Our award-winning program Brain Health University (BHU) is always popular for those residents who like to stretch their minds and socialize with friends, as are the plethora of life enrichment programs available.
Unbeatable location
Walden Place is in the heart of Cortland, the home of the New York Jets training camp. We are also very close to theaters, Cortland State University, the Fingerlakes Wine Trail, and several quality hospitals. Our experienced, caring Senior Living staff will take you wherever your heart desires.
Care that's always there
Our Cortland Memory Care and Assisted Living residents and residents' families receive valuable peace of mind knowing that a certified nurse is on staff 24 hours a day. We provide dog walking and grooming, laundry services, a beauty salon and barbershop, housekeeping services, and transportation.
Prior to moving in we speak with you and your physician to find just the right level of assistance that will allow you to enjoy your independence to the fullest. Together, we will compose an Individual Service Plan (ISP) to guide us in assisting you. Our mission is to provide a lifestyle that fosters independence, actively engages the mind, invigorates the body and nurtures the spirit while offering you and your loved ones the peace of mind you deserve.
Worry-free lifestyle with just a simple lease
While some communities insist on new residents plopping down huge, non-refundable payments up-front, we like to do things a little differently. We care about not only the physical and emotional well being of our residents, but their financial health as well. That's why we offer our residents all the perks of country club living without the expensive buy-in—just a simple lease. Our community offers 60 Enriched Housing apartments and 20 Memory Care apartments with different floor plan options and a number of amenities described below.
Explore nearby cities like Ithaca.
* This Community is Licensed as an Assisted Living Residence with Enhanced Assisted Living and a Private Proprietary Adult Home
Please select here to read our HIPAA Notice of Privacy Practices
Dining at Walden Place
Live Well, Dine Well
Allow our professionally trained service staff to present you with delicious dishes made from locally sourced ingredients for breakfast, lunch and dinner. At Senior Lifestyle, dining is an integral part of the resident experience, and we do everything we can to delight you with a personalized dining experience.
Dining Directors and Executive Chefs meet with residents to discuss and incorporate enhancements to the menu, special requests, favorite recipes or foods, and unless otherwise specified by state regulations we offer therapeutic diets such as reduced concentrated sweets, mechanical soft and purée. Residents can select healthy, locally sourced options based on the nutritional information, or they can simply opt to choose their favorites. And we always encourage residents and relatives to make special arrangements when expecting a family visit!
Services at Walden Place
Our Service Culture Makes the Difference
It's the service culture at every Senior Living community that sets us apart. Our experienced, highly trained staff find everyday fulfillment as they help residents live life to the fullest. Below you will find the services and amenities available that are specific to this location, organized by lifestyle option.
Assisted Living
Restaurant-Style Service for Breakfast, Lunch and Dinner
Weekly Housekeeping
Daily Housekeeping
On-Site Maintenance Personnel
Personal Laundry
Availability of Professional Service Staff 24-Hours per Day
Availability of Licensed Nursing Staff 24-Hours per Day
Utilities – Excluding Telephone and Internet
Personalized Care Plans
24-Hour Emergency Call Response
Daily Up and About Check
Nutritious Snacks Available Throughout the Day
Transportation
A La Carte
Catering – Private Functions
Room Service
Routine Physician Visits
Routine Podiatry Visits
Enriched Housing
Restaurant-style service for Breakfast, Lunch and Dinner
Cuisine prepared with seasonal, locally sourced ingredients
Weekly Housekeeping
On-Site Maintenance Personnel
Personal Laundry
Availability of Professional Service Staff 24-hours per day
Availability of trained clinical staff 24-hours per day
Availability of licensed nursing staff 24-hours per day
Utilities
Personalized Care Plans
24-Hour Emergency Call Response
Daily Up and About Check
Nutritious Snacks available throughout the day
Transportation
Memory Care
Restaurant-Style Service for Breakfast, Lunch and Dinner
Daily Housekeeping
Weekly Housekeeping
On-Site Maintenance Personnel
Personal Laundry
Availability of Professional Service Staff 24-Hours per Day
Availability of Licensed Nursing Staff 24-Hours per Day
Utilities
Personalized Care Plans
24-Hour Emergency Call Response
Daily Up and About Check
Nutritious Snacks Available Throughout the Day
Transportation
Secured, Dexterous Courtyards with Walking Paths and Professionally Manicured Landscapes and Gardens
General Amenities
Beauty and Barber Shop
Emergency Call System
Fitness Equipment
Business Center (Computers, Copy Machine, Fax, Etc.)
Main Dining Room
Private Dining Room
Planned Social Activities
Cards Room
Walking Path
Outdoor Patio Area
Spacious Community Rooms with TV's and DVD's
Mail Room
Guest Parking
Courtyard
Complimentary Wi-Fi
Pet Friendly
Individually Controlled Heat and Air
Library
Jacuzzi
Points of Interest
Senior Lifestyle communities are located near many cultural, culinary and spiritual points of interest. We encourage residents to explore their local communities however they like. We arrange for scheduled trips to local markets, theaters and more, but we also love it when residents create their own trips! Points of interest near this Senior Lifestyle community include:
Grace Chrisitan Fellowship
St Mary's Catholic Church
Kingdom Hall
United Methodist
Cortland Regioal Medical
Cayuga Medical
Cortland Transit
Cortland Senior Center
Cortlandville Crossing
Shops at Ithaca Mall
Destiny USA
Plaza Movie
Cortland Repatory Theatre
Center for the Arts
1890 House
Living History Museum
Cortland State
Home of NY Jets Training Camp
Close to the Fingerlakes Wine Trail
Greek Peak Mountain Resort
Unique shopping and dinning
Floor plans at Walden Place
Enriched Housing
Memory Care
Programs at Walden Place
Stop Dreaming—Start Doing!
Senior Living communities thrive because many of our residents are curious, interesting individuals who love to collaborate with their neighbors and our staff. They consistently make brilliant suggestions for interesting new programs and clubs, which we are more than happy to make a reality. We empower every resident to continue to grow, connect, move, and create at their own pace.
Executive Bio for Walden Place
Meet Our Executive Director
David Canfield
David Canfield comes to Walden Place in his new role as Executive Director with extensive experience managing programs and a background working with at-risk youth. He holds a degree from SUNY Oswego and has done Master's work at Syracuse University. David states that the most exciting part of this new position is the opportunity to interact with residents and staff while making positive changes in the community. His goal is to show prospective residents that he and his dedicated staff will work to make every new resident feel comfortable at Walden Place, tailoring the experience to individual needs and preferences.
David is proud to share that Walden Place is a veteran-friendly community, stating "We honor our veterans and respect the service they gave our country." He feels that the community has a lot to offer for residents with varied interests, citing Walden Place's award-winning Brain Health University, a program designed for residents who wish to stretch their minds while socializing with friends.
When not at Walden Place, David enjoys farming as a hobby. He is excited to welcome guests to Walden Place and share the caring, welcoming atmosphere of this lovely community!
Awards for Walden Place
And the Award Goes to…
Since Senior Lifestyle was founded in 1985, our skilled and compassionate team has been helping Senior Living residents learn, grow, and connect in ways they never expected. The best part is that we learn from our residents even more than they learn from us, which might explain why our programs and services continue to evolve and improve every year. As a result of our high level of service, we've received official recognition over the years. While we are proud of these awards, our passion for what we do continues to drive us to improve every single day.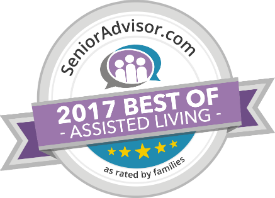 Awards for Walden Place
heart of caring
The most sought after honor at Senior Lifestyle is the annual Heart of Caring Award. The Heart of Caring Award is reserved for an outstanding individual who best brings the Senior Lifestyle Mission, Core Values and Service Culture to life daily within their communities. We are proud and honored to recognize the Heart of Caring Winner from Walden Place and deeply thank all of these special individuals for making a difference in the lives of our residents, bringing peace of mind to the families, and serving as role models for their peers.
Testimonials for Walden Place
We can talk all day about how great our communities are, but we think you should hear from people who have experienced first-hand how we offer an unmatched quality of life at every senior living community.
"One "wing" of the this Assisted Living Facility is dedicated to Memory Loss. As with any care facility, Walden Place is not 100% in every area but pretty darn close. The residents in Memory Care are treated with the utmost respect and the facilities are top notch. Programming is structured so all residents have several activities each day and are stimulated both physically and mentally. The food is superb!! All residents join in a common room and socialize during mealtime. This is in no way your perceived "Nursing Home." Medical treatment is not part of the plan but everyday medication delivery is. This is an ideal facility for those who are not bed ridden and still benefit from interaction." – Sanhat292
"My 92-year-old father recently moved into Walden Place in Cortland, NY. I cannot say enough about how pleased and relieved I am to have him surrounded by such caring and competent staff, as well as friendly residents. Walden Place is set in a rural area yet is very close to shopping. The physical environment is bright, fresh, and well-appointed, activities and outings are plentiful, and the three daily meals are wholesome and delicious. What impresses me the most, though, is the number and quality of staff, both clinical and non-clinical, who continually engage with all residents – stopping by to remind them of activities, rounding twice during the night, keeping track of medical appointments, medications, and needed lab work, and providing transportation to appointments. This inclusive approach is a very different model than the retirement complex from which my dad moved in Florida. Not only am I happy that my father now lives close by, I can rest assured that he is in good hands. I can't thank Walden Place enough! Linda McLean, Ithaca, NY" – Linda M.
"The Walden Place assisted living facility located in Cortland NY. My family was very fortunate to be able to move my father into this community. With the slow decline of my mother we had time to research options that we thought would be viable in resolving our dilemma of how best to provide care for my father. We chose Walden Place over what we considered were lesser alternatives. Initially what struck me was how non-institutional and physically pleasant the facility was. The common areas are comfortable and inviting. The individual rooms or suites are clean and modern. Second was how positive and friendly the staff was. We felt very welcomed by everyone connected to Walden Place from the administrators to the maintenance staff, the care givers to the dining personnel. This has continued to be the case. Everyone is very attentive and helpful. I believe that the employees take pride in their community. I enjoy the idea of having my parent reside in a safe and positive environment. He has options for activities should he choose to participate. Medical assistance is close by and there are people to engage with. I would recommend Walden Place for your consideration. Michael L. Mallah" – Michael M.
Special Offer
Save $1,000 on Moving Expenses!*
Senior Lifestyle is here to lessen the load. That's why we're offering $1,000 off your moving expenses for move-ins prior to 12/31. We take pride in making everyday a happy day. This even includes moving day.
Request more info to receive a coupon for $1,000 off your Moving Expenses. Print out the $1,000 off coupon and bring it with you when you visit the community!
*Participating communities only. Limited-time offer applicable to new residents only and must be presented at the time of deposit.
request info