Grand Opening Event
Information Seminar
Harbour Assisted Living of Monroeville
Live the Good Life at Harbour!
You can find Harbour Senior Living in the beautiful community of Monroeville, Pa. Since 1998, seniors have found a place to live and grow in our caring community, where we offer Monroeville Memory Care and Personal Care services. Thanks to our superb staff and inspiring residents, we recently received the 2012 Heart of Caring Award! Designed for seniors looking for companionship and amenities in a stimulating environment with hospitality-centered staff, at Harbour Senior Living it's our top priority to provide all the services and amenities you or your loved one need to live life to the fullest!
Designed with you in mind
While our roots in the community are deep, we continually invest in the appearance and structure of our community. Our home-like atmosphere and gorgeous community has a number of recently renovated community rooms with the most recent being in 2011, where residents like to relax with a good book or laugh with their friends and share stories. We have a computer room, a library, and private rooms for family gatherings and special occasions. We are also near two of the leading hospitals in the Monroeville area along with many skilled facilities for rehabilitation.
Care that's always there
Our Monroeville Senior Living and Memory Care residents and residents' families receive valuable peace of mind knowing that a certified nurse are available 24 hours a day. Prior to moving in we speak with you and your physician to find just the right level of assistance that will allow you to enjoy your independence to the fullest. Together, we will compose an Individual Service Plan (ISP) to guide us in assisting you. Our mission is to provide a lifestyle that fosters independence, actively engages the mind, invigorates the body and nurtures the spirit while offering you and your loved ones the peace of mind you deserve.
Worry-free lifestyle with just a simple lease
We care about not only the physical and emotional well being of our residents, but their financial health as well. All of our apartments are spacious, with varying floor plans and amenities described below.
Explore nearby cities like Murrysville.
Please select here to read our HIPAA Notice of Privacy Practices
Dining at Harbour Senior Living of Monroeville
Live Well, Dine Well
Allow our professionally trained service staff to present you with delicious dishes made from locally sourced ingredients for breakfast, lunch and dinner. At Senior Lifestyle, dining is an integral part of the resident experience, and we do everything we can to delight you with a personalized dining experience.
Dining Directors and Executive Chefs meet with residents to discuss and incorporate enhancements to the menu, special requests, favorite recipes or foods, and unless otherwise specified by state regulations we offer therapeutic diets such as reduced concentrated sweets, mechanical soft and purée. Residents can select healthy, locally sourced options based on the nutritional information, or they can simply opt to choose their favorites. And we always encourage residents and relatives to make special arrangements when expecting a family visit!
Services at Harbour Senior Living of Monroeville
Our Service Culture Makes the Difference
It's the service culture at every Senior Living community that sets us apart. Our experienced, highly trained staff find everyday fulfillment as they help residents live life to the fullest. Below you will find the services and amenities available that are specific to this location, organized by lifestyle option.
A La Carte
Physical, Occupational and Speech Therapy
Room Service
Routine Physician Visits
Routine Podiatry Visits
Personal Care
Restaurant-Style Service for Breakfast, Lunch and Dinner
Cuisine Prepared with Seasonal, Locally Sourced Ingredients
Weekly Housekeeping
Monthly Housekeeping
On-Site Maintenance Personnel
Personal Laundry
Availability of Professional Service Staff 24-Hours per Day
Utilities – Excluding Telephone and Internet
Personalized Care Plans
24-Hour Emergency Call Response
Daily Up and About Check
Nutritious Snacks Available Throughout the Day
Transportation
Memory Care
Restaurant-Style Service for Breakfast, Lunch and Dinner
Cuisine Prepared with Seasonal, Locally Sourced Ingredients
Weekly Housekeeping
On-Site Maintenance Personnel
Personal Laundry
Availability of Professional Service Staff 24-Hours per Day
Utilities
Basic Cable
Care Innovations – QuietCare, Electronic Medication Administration Record
Personalized Care Plans
24-Hour Emergency Call Response
Daily Up and About Check
Nutritious Snacks Available Throughout the Day
Transportation
Secured, Dexterous Courtyards with Walking Paths and Professionally Manicured Landscapes and Gardens
General Amenities
Beauty and Barber Shop
Emergency Call System
Main Dining Room
Private Dining Room
Planned Social Activities
Outdoor Patio Area
Spacious Community Rooms with TV's and DVD's
Guest Parking
Courtyard
Complimentary Wi-Fi
Pet Friendly
Individually Controlled Heat and Air
Rehabilitation Gym
Library
Bistro
Points of Interest
Senior Lifestyle communities are located near many cultural, culinary and spiritual points of interest. We encourage residents to explore their local communities however they like. We arrange for scheduled trips to local markets, theaters and more, but we also love it when residents create their own trips!
Points of interest near this Senior Lifestyle community include:
North American Martyrs
First baptist Church
Temple David Congregation
Forbes Regional
UPMC East
Senior Center
Shopping Center
Theatre
Museum
Floor plans at Harbour Senior Living of Monroeville
All Residence Types
Programs at Harbour Senior Living of Monroeville
Stop Dreaming—Start Doing!
Senior Living communities thrive because many of our residents are curious, interesting individuals who love to collaborate with their neighbors and our staff. They consistently make brilliant suggestions for interesting new programs and clubs, which we are more than happy to make a reality. We empower every resident to continue to grow, connect, move, and create at their own pace.
Executive Bio for Harbour Senior Living of Monroeville
Meet Our Executive Director
Jenna Johnston-Lanyi
Jenna Johnston-Lanyi joins Harbour Senior Living of Monroeville with 15 years in the senior living industry, including positions as Director of Sales and Marketing, Sales Manager, and Family Liaison. She has been with Senior Lifestyle for over two years, and says that her favorite part of her job is meeting the challenges faced by families as they search for exceptional care for a loved one. "We typically meet a new resident/family member at one of the most challenging times of their life. I love working with the residents and their families to build a relationship and take what is a challenging situation and making it a positive experience!"
Jenna feels that the people who live and work at Harbour Senior Living of Monroeville set her community apart from others, stating that there is a strong sense of family among team members and residents. She notes that prospective residents often decide to move in when they see the pride she and her team take in caring for their residents and families, a dedication that is in evidence daily!
Jenna holds a Bachelor of Arts degree from Temple University and enjoys cooking, reading, skiing and travel in her free time. She'd love to welcome everyone to visit Harbour Senior Living of Monroeville and experience the family atmosphere that makes this community so special!
Awards for Harbour Senior Living of Monroeville
And the Award Goes to…
Since Senior Lifestyle was founded in 1985, our skilled and compassionate team has been helping Senior Living residents learn, grow, and connect in ways they never expected. The best part is that we learn from our residents even more than they learn from us, which might explain why our programs and services continue to evolve and improve every year. As a result of our high level of service, we've received official recognition over the years. While we are proud of these awards, our passion for what we do continues to drive us to improve every single day.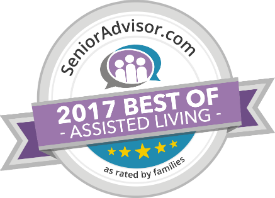 Awards for Harbour Senior Living of Monroeville
heart of caring
Testimonials for Harbour Senior Living of Monroeville
We can talk all day about how great our communities are, but we think you should hear from people who have experienced first-hand how we offer an unmatched quality of life at every senior living community.
"Mom is living in Harbour Senior Living. I highly recommend it. It is a wonderful facility and an excellent fit for my mom. It is a very clean place, which is very important to me. It is also more conveniently located for my family. The staff is extremely caring. All the people who work there are very nice. They have activities going on all the time. Overall, it has a very good environment for my mom who is a very social person. Since day one, they bring her out of her room. We never get a hold of her and that is good because she is encourage to go to the common area and socialize with the other people there whether it be playing bingo or cards, or watching movies or sitting on front porch just watching the traffic go by." – Caring72769150
"I appreciate the time and care that The Harbor gives to my family. The caretakers are always present and ready to assist anyone without being asked and at a moment's notice. They are quick to make a decision, even given the urgency of a situation, and good at deciding how to best approach it, even if the task may dictate giving up a current or personal task. The food is exceptional, with variety given for every meal, and it is served at the same time every day to ensure a regular schedule for the residents. Schedule is especially important to many residents as it gives them their next event to look forward to. The Harbor features a memory and Alzheimers neighborhood on the bottom floor specialized in taking care of residents with any memory issues. Many of these residents are frustrated because they perceive themselves between the ages of 18 and 30, and the residents around them seem to be much older. The neighborhood is unique because it offers these residents an opportunity to regain their memory in an environment that is organized with time and patience in mind. Ultimately, the Harbor is a very unique facility with care at its top priority." – Caring Sue
Special Offer
Save $1,000 on Moving Expenses!*
Senior Lifestyle is here to lessen the load. That's why we're offering $1,000 off your moving expenses for move-ins prior to 12/31. We take pride in making everyday a happy day. This even includes moving day.
Request more info to receive a coupon for $1,000 off your Moving Expenses. Print out the $1,000 off coupon and bring it with you when you visit the community!
*Participating communities only. Limited-time offer applicable to new residents only and must be presented at the time of deposit.
request info