Grand Opening Event
Information Seminar
Heron East Assisted Living
REDISCOVER THE GOOD LIFE AT HERON EAST
Heron East Assisted Living facility, voted best Assisted Living in Sarasota, FL, offers the care and support to live your life to the fullest. Only a short drive from the action of Sarasota, our one-level facility of private apartments is nestled just off of Cattlemen Road, surrounded by oak trees. When you choose assisted living in Sarasota, you'll have five levels of care and assistance with self-administration of medications tailored to your needs. It's our top priority to provide you all the services and amenities you need to live life the way only you know how!
The comforts of home, and then some
Step through the doors of our Heron East Assisted Living facility and join a gracious community where new friends and familiar comforts await. Sip your coffee and enjoy a good book on our porch as you look onto our quiet garden, have friends over for a delicious restaurant style meal, take a shopping excursion to one of our favorite hotspots in town, or join the Wii bowling team! Our lovely common areas are as cozy as your own living room, perfect for a quiet moment or entertaining family and friends. A variety of activities each day assures you can be as busy or quiet as you like.
Care that's always there
Our Heron East Assisted Living residents and residents' families receive valuable peace of mind knowing that our care staff is available 24 hours a day. Because of our outstanding experience with assisted living in Sarasota, we employ health services specialists passionate about the aging and daily service excellence. When necessary, we enlist the highest quality community resources available, including the finest in home health care, physical therapy and visiting physicians.
Worry-free lifestyle with just a simple lease
We care about not only the physical and emotional well-being of our residents, but their financial health as well. That's why we offer residents just a simple lease. Our Heron East Assisted Living community consists of 112 private apartments, with a number of amenities listed below.
Explore nearby cities like Lakewood Ranch.
Please select here to read our HIPAA Notice of Privacy Practices
Dining at Heron East
Live Well, Dine Well
Allow our professionally trained service staff to present you with delicious dishes made from locally sourced ingredients for breakfast, lunch and dinner. At Senior Lifestyle, dining is an integral part of the resident experience, and we do everything we can to delight you with a personalized dining experience.
Dining Directors and Executive Chefs meet with residents to discuss and incorporate enhancements to the menu, special requests, favorite recipes or foods, and unless otherwise specified by state regulations we offer therapeutic diets such as reduced concentrated sweets, mechanical soft and purée. Residents can select healthy, locally sourced options based on the nutritional information, or they can simply opt to choose their favorites. And we always encourage residents and relatives to make special arrangements when expecting a family visit!
Services at Heron East
Our Service Culture Makes the Difference
It's the service culture at every Senior Living community that sets us apart. Our experienced, highly trained staff find everyday fulfillment as they help residents live life to the fullest. Below you will find the services and amenities available that are specific to this location, organized by lifestyle option.
A La Carte
Physical, Occupational and Speech Therapy
Room Service
Routine Physician Visits
Routine Podiatry Visits
Assisted Living
Restaurant-style service for Breaskfast, Lunch and Dinner

Weekly Housekeeping

Daily Housekeeping
Bi-weekly Housekeeping

On-Site Maintenance Personnel

Personal Laundry

Availability of Professional Service Staff 24 hours a day
Availability of Trained Clinical Staff 24 hours a day
Availability of Licensed Nursing Staff 24 hours day

Utilities – excluding telephone and internet

Personalized Care Plans

24-Hour Emergency Call Response

Daily Up and About Check

Nutritious Snacks available throughout the day

Transportation
Medication Management
General Amenities
Beauty and Barber Shop

Emergency Call System

Business Center/Internet Lounge (Computers, Copy Machine, Fax, etc.)

Main Dining Room

Planned Social Activites

Billiards Room

Walking Path

Outdoor Garden Area

Spacious Community Rooms with TV's and DVD's
Mail Room

Library

Guest Parking

Courtyard

Complimentary Wi-Fi
Smoke-Free Environment

Pet Friendly

Individually Controlled Heat and Air

Walk-In Closets
Pond
Points of Interest
Senior Lifestyle communities are located near many cultural, culinary and spiritual points of interest. We encourage residents to explore their local communities however they like. We arrange for scheduled trips to local markets, theaters and more, but we also love it when residents create their own trips!
Points of interest near this Senior Lifestyle community include:
Colonial Oaks Baptist 

Bee Ridge Presbyterian 

Southside Christian 

Doctors Hospital 

SMH 

Lakewood Ranch Medical Ct 

Scat transit at community entrance

Senior Friendship Center 

Westfield Mall 

Centergate Village 

Fruitville Crossings 

Ringling Museum 

University of Phoenix 

Argosy University 
Floor plans at Heron East
Assisted Living
Programs at Heron East
Stop Dreaming—Start Doing!
Senior Living communities thrive because many of our residents are curious, interesting individuals who love to collaborate with their neighbors and our staff. They consistently make brilliant suggestions for interesting new programs and clubs, which we are more than happy to make a reality. We empower every resident to continue to grow, connect, move, and create at their own pace.
Executive Bio for Heron East
Meet Our Executive Director
Barry Landreth
Barry Landreth has been working in the senior living industry since 1987, having worked at Heron East for the past four. His favorite part of the job as Executive Director has been making a difference in seniors' lives.
"At Heron East, we work each day to create a homelike environment that enriches the lives of our residents in every way," he says.
Barry says that what make's our community special are the people, both residents and staff.
Barry enjoys baking from scratch, maintaining his saltwater aquarium, and entertaining guests and family at home.
Barry is excited for you to experience Heron East for yourself!
Awards for Heron East
And the Award Goes to…
Since Senior Lifestyle was founded in 1985, our skilled and compassionate team has been helping Senior Living residents learn, grow, and connect in ways they never expected. The best part is that we learn from our residents even more than they learn from us, which might explain why our programs and services continue to evolve and improve every year. As a result of our high level of service, we've received official recognition over the years. While we are proud of these awards, our passion for what we do continues to drive us to improve every single day.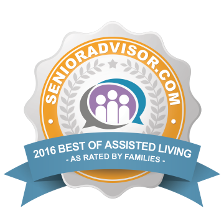 Awards for Heron East
heart of caring
The most sought after honor at Senior Lifestyle is the annual Heart of Caring Award. The Heart of Caring Award is reserved for an outstanding individual who best brings the Senior Lifestyle Mission, Core Values and Service Culture to life daily within their communities. We are proud and honored to recognize the Heart of Caring Winner from Heron East and deeply thank all of these special individuals for making a difference in the lives of our residents, bringing peace of mind to the families, and serving as role models for their peers.
Testimonials for Heron East
We can talk all day about how great our communities are, but we think you should hear from people who have experienced first-hand how we offer an unmatched quality of life at every senior living community.
"3 years ago my mother fell and broke her hip and was unable to return to her apartment alone. We were very lucky to find Heron East when looking for assited living. She has her own private room and bath which REALLY means a lot when coming from home alone, and has really been happy there. She wieghed 85 lbs when she arrived and has really flourished since moving in and has gained weight. Of course I cannot tell you her weight now (she would not be happy if I did) but the socialization has really improved her outlook on life. I feel very confident with the staff and feel each one cares about her as an individual. Having her cared for and knowing she has a place she can call home has made me feel so blessed in so many ways. Thank you to everyone at Heron East, from the housekeepers to the nursing staff to the management staff. A very grateful daughter!!" – B.J. Whitley and Daughter Jeanie Mitchell
"After many visits to see a dear friend that lives at Heron East, we decided to move my Father there too. I am so happy with the move. If was a difficult decision as my Dad has dementia and his needs can sometimes be demanding. It was such a good decision as he is now doing so much better than in his former location at another ALF. It's just wonderful to see him so happy. I just love all the staff. Their entertainment Director is so Great!. He really works to get everyone involved in many activities and I love it that they have so much "live" entertainment and all kinds of interesting outings and different events including a quarterly fun, free, family night with great food and live entertainment. I also enjoy all the nice "quiet" areas, different living rooms and a pool table area. The facility is so beautiful with pretty flowers and plants and a nice fenced pond with lots of turtles. But most of all the staff seem to truly care about the residents. They even voluntarily hung up all…our photos and shelving and gave terrific suggestions on decorating when he first moved in. Our family is so happy that we found Heron East. And best of all…the food is fabulous! Dad loves having his eggs just the way he wants them for breakfast. Everything seems to be homemade and I love eating with Dad because the dining room is so pretty and spacious and the food is so yummy and a great atmosphere for visits. It's such a relief, knowing that my Dad is in a clean, safe and loving environment. The staff is so attentive and call me if there's anything unusual going on. I just love how they really care about him and want the best for him. And I love that no matter what the staff's position is, they all help the residents get around and find their rooms or help when needed. The staff really has such a positive attitude and it shows. Consequently, the residents all seem very happy. I just love going there. It's a fun place to be. If your looking for an Assisted Living Facility, you should definitely look into it as it's a wonderful place and my Dad just loves it there and tells me "I wouldn't want to be any place else!" – Dawn S
"Heron East is so much more than a building or a place where my mother lives. It is a community where she finds security/safety, contentment, and daily structured care which meets her physical needs as well as emotional needs. The family of caregivers there, including the administrative staff, provides an environment in which my mom has found a certain peace, despite her health issues. From the family perspective, we find immediate response to questions and those occasional "system" issues which are always going to arise no matter where we are. We are very grateful for the exceptional care Mom receives at Heron East." – Patti K.
"My mother moved to Heron East about 3 years ago. She has adjusted very well and participates in the many activities provided by the facility. Heron East has a caring and compassionate staff from the housekeepers to the administrators. I am very pleased with all aspects of my mother's care at Heron East and have recommended the facility to many of my friends with elderly family needing assisted living." – jmitch2k
"I moved in last week to Heron East. They have great people and I'm staying in a private room with a bath. They serve very good food." – Gene5
"We moved my Father to Heron East about 2 months ago and I am so pleased with the facility. Dad has some dementia and gets confused. It was difficult decision to move him, but he's really blossomed at Heron East. The staff is so kind and loving and so attentive. They even offered and hung all his pictures for us…I really like the Activity Director and all the wonderful, different activities that are provided….the live entertainment is frequent and of very high quality, they have yummy snacks too…the residents all seem very happy…and the food is absolutely delicious and they are very accommodating for special needs or diets…Dad really loves it there and especially loves the food…It's clean and the grounds are always full of flowers…I also love the pond with lot's of turtles….the staff is very high quality and several employees have approached me and mentioned how much they enjoy having my dad at their facility…Wow!!! Such a positive and encouraging change from his past Assisted Living Facility…I'm very happy to recommend them…It's so comforting to know that dad's in a clean, safe environment and that he's so happy to be there…If your looking for an ALF, you should definitely check this one out. It's very nice." – D. Stewart
Special Offer
Save $1,000 on Moving Expenses!*
Senior Lifestyle is here to lessen the load. That's why we're offering $1,000 off your moving expenses for move-ins prior to 12/31. We take pride in making everyday a happy day. This even includes moving day.
Request more info to receive a coupon for $1,000 off your Moving Expenses. Print out the $1,000 off coupon and bring it with you when you visit the community!
*Participating communities only. Limited-time offer applicable to new residents only and must be presented at the time of deposit.
request info